Thanks for shopping at Valent Skin.
If you are not entirely satisfied with your purchase, we're here to help.
RETURN POLICY
• Store Purchase: Return within 30 days from the date of purchase of the product(s).
• Online Purchase: Return within 30 days of receiving the product(s) ordered from the Valent Skin online store (www.valentskin.com) or through sales team. Example: If you received the product(s) on 1st May, please return the product(s) by shipping it to our warehouse by 30th May.
• Product(s) can be returned for exchange or refund, provided the product(s) is returned in new, unopened and original condition with original product packaging, price tags, sealed and labels.
• If the product(s) has been discounted either by promotion or coupon codes, the amount refunded will be based on the net amount i.e. paid price for the product(s) less the coupon amount as indicated on the receipt. Delivery charges paid in the original order are non-refundable. The coupon code may be replaced at our sole discretion if the product(s) to be refunded is damaged, defective or faulty.
• Product(s) sold at mark down prices due to defect cannot be returned.
• Woman sanitary product cannot be exchanged or returned due to our strict hygiene policy.
• Valent Group Sdn Bhd reserves the right to reject requests for returns and/or refunds where (i) such requests are deemed habitual in our sole and absolute discretion; and/or (ii) there is suspicion of purchase for the purposes of resale.
• Valent Group Sdn Bhd reserves the right for final decision.
• Valent Group Sdn Bhd reserves the right to amend this policy at any time without prior notice.
• Your item needs to have the receipt or proof of purchase.
RETURN METHOD
PURCHASE AT PHYSICAL STORE
1) Visit our Valent Skin physical store.
2) Bring along the original invoice/ purchase receipt and the product(s) in with original product packaging, price tags and labels.
3) Meet our Beauty Assist to request for a refund.
4) If your refund is approved, we will initiate a refund to your credit card (or original method of payment). You will receive the credit within a certain amount of days, depending on your card issuer's policies.
PURCHASE AT ONLINE STORE
STEP 1: Review Checklist
Remarks:
1) Woman sanitary product is non-returnable.
STEP 2: Fill in the Return Form



1) Return form can be found inside the original delivery parcel. If you have lost your return form, you may get the empty form from our Customer Service here.
2) The return form should pack into the return parcel inside with your return item.
3) Please include the invoice into your return parcel when packing.
STEP 3: Packing & Return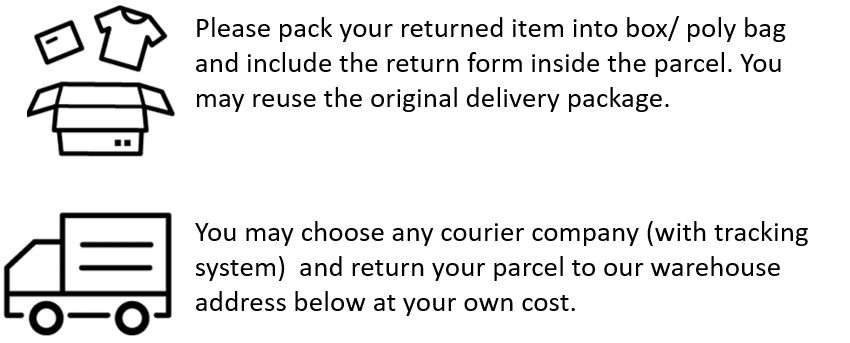 STORE ADDRESS

Recipient : Valent Skin LGST Return
Contact number : 04-4447111
Address :
No C1, Chalet Block C,
Kelab Cinta Sayang,
08000, Sungai Petani,
Kedah, Malaysia.
Remarks:
1) Please note that courier charges for your return package will NOT be covered by Valent Skin.
2) Please obtain a delivery receipt from courier company of your choice or record your tracking number to trace your return package if it reaches our store.
3) Valent Skin will not be liable for any loss or damage of your return package and/or product (s) handled by courier company of your choice.
STEP 4: Return Confirmation Email



STEP 5: Refund



If you have any questions on how to return your item to us, contact us at [email protected]