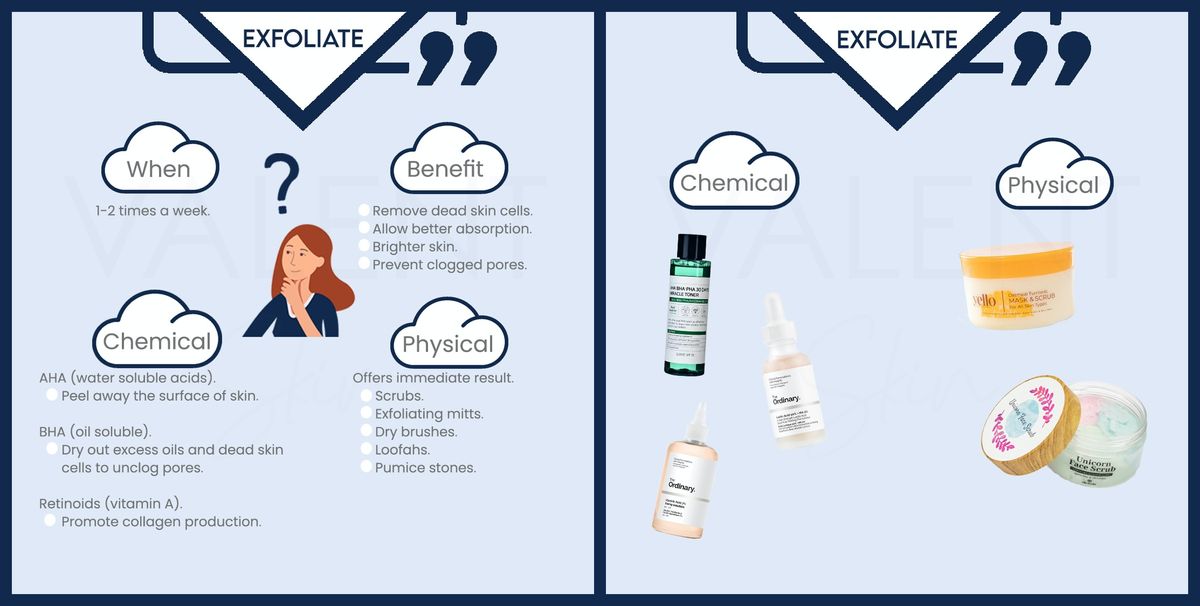 Exfoliate?

✨ Apa itu exfoliate?

Exfoliate adalah membuang sel kulit mati pada kulit untuk allow better absorption of product yang dipakai, untuk kulit nampak lebih radiant dan brighter. Selain itu, untuk prevent pori tersumbat.

✨ Bila kita perlu exfoliate?

1 atau 2 kali sahaja seminggu.

✨ Nak guna apa untuk exfoliate?

Ada 2 jenis exfoliant. Chemical and physical.

✨ Chemical exfoliant: AHA, BHA dan Retinoids. Selalunya datang dalam bentuk toner.

AHA adalah water soluble acids seperti Lactic Acid & Glycolic Acid yang akan peel away surface of skin.

BHA pula adalah oil soluble seperti Salicylic Acid. Ianya akan keringkan excess oils dan sel kulit mati untuk unclog pores anda.

✨ Physical exfoliant: scrubs, exfoliating mitts, facial brushes dan etc. Physical exfoliant ini pula, akan memberi kesan dengan cepat dalam membuat kulit kita lebih radiant.

❗️Anda boleh slide ketepi untuk check jenis-jenis exfoliant yang ada di Valent Skin shop.

✨ Jadi perlu tak untuk exfoliate kulit anda? Yes, perlu.

Kenapa? If not, kulit anda akan kusam dan produk yang anda apply tak akan beri kesan yang baik.