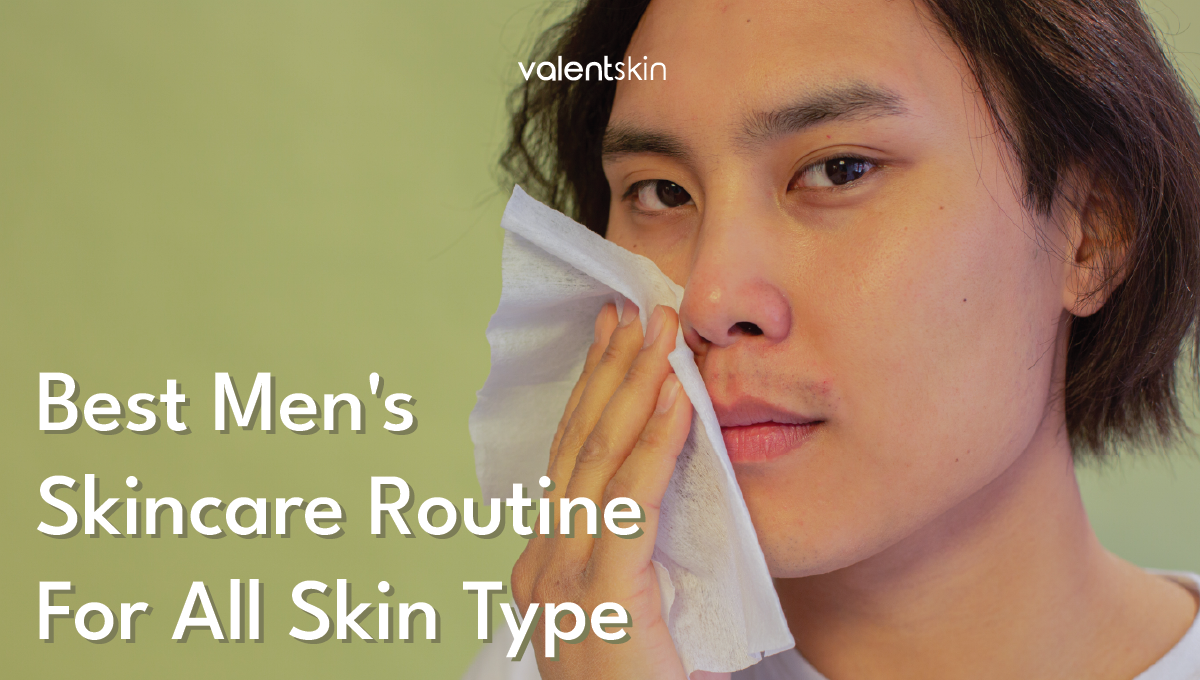 While commemorating Men's Health Awareness Month in November, we are called to write this article specifically for men who's still struggling to find the right skincare for their skin type. There is numerous man who started to take care of their skin nowadays but there are still who don't. We asked our team why they thought men not liking skincare; these are some of their answers.
"Some of them are still has the mentality that skincare is only for woman"
"Maybe they are just lazy"
"Too much steps and it is complicated"
"My husband said his skin feels oily after doing skincare!"
"Afraid of get called as not 'man' enough"
We take this opportunity to advice and guide those who are still has a problem with their skincare routine. Once you grasp the concept gradually, without you knowing, you are starting to use Retinol and active ingredients in your routine.
Below is a repressive routine that you can follow for each skin type and skin concern for beginners.
1. Oily and Acne Prone Skin
Talk about men and skin concerns, read shows that most men have oily and acne-prone skin. There are many reasons for oily and acne-prone skin including stress, humidity, genetics, and fluctuating hormones. The oilier the skin gets, the more likely it can produce acne and pimples simultaneously as clogging the pores. These are some suggestions of skincare routine which oily and acne-prone skin men can follow.
Cleanser - The Raw. Acne Ceramides Cleanser
This cleanser is designed to deeply cleanse and gently exfoliate your acne skin while protecting your skin barrier function simultaneously. Added with 2% Salicylic Acid, it is concentrated enough to calm acne, reduce comedones (blackheads & whiteheads), as well as improving the appearance of pores. This cleanser effectively removes excess oil, dead skin cells, and clogged pores, which helps to prevent new acne breakouts.
Essence - Beauty of Joseon Ginseng Essence Water
This Ginseng Essence Water concentrates on the advantages of ginseng itself, providing enough hydration and nutrients to the skin, and includes 80% Ginseng Water. It effectively absorbs moisture and nutrients to help keep your skin hydrated for a long time. Having 2% of Niacinamide which works to brighten and control production of sebum.
Moisturiser – Valent Skin Dreamy Calming Moisturiser
Dreamy Calming Moisturiser is a light gel-cream texture moisturiser and can hydrate, nourish, and lock moisture in for an extended period of time. Dreamy Calming Moisturiser incorporates skin barrier-boosting ingredients like Ceramide and Hyaluronic acid. They also have skin-healing ingredients like Centella Asiatica, which can help with acne and redness. This moisturiser also contains Rice extract, the most underrated skin-hydrating ingredient, which helps all skin types be healthier.
Sunscreen - Axis-Y Complete No Stress Physical Sunscreen
This sunscreen is a Mugwort-based sunscreen featuring 2% Niacinamide and Squalane that protects skin from UVA and UVB damage while providing the healing properties of skin-loving ingredients for an everyday, no-stress life. Sunscreen that uses reef-safe ingredients (only physical active ingredients) that leave no white cast, stickiness, and pilling for no stress to our mornings and the environment.
2. Dry and Sensitive Skin
In contrast with men who has oily and acne prone skin, there are a lot who has dry and sensitive skin. The appearance and feel of dry skin is rough, itchy, flaky, or scaly. Each person experiences these dry spots in a different location. It is a widespread condition that can afflict anyone at any age.
Numerous factors, such as cold or dry weather, sun damage, harsh soaps, and over-bathing, can contribute to dry skin, also known as xerosis or xeroderma. These are some suggested skincare routines for men with dry and sensitive skin.
Cleanser – Valent Skin Daily Glow Cleanser
Daily Glow Cleanser is daily cleanser that can cleanse your skin day and night without leaving skin feel tight. This gentle cleanser can brighten and hydrate all skin type. Daily Glow Cleanser is a gentle cleanser with 5.5 - 6.0 pH value which is suitable for age and for all gender. Formulated with in-trend ingredients to help dry, acne, dull, normal and oily skin to be healthier.
Toner - Klairs Supple Preparation Unscented Toner
The Klairs Supple Preparation Unscented Toner balances the skin's pH level and improves the effectiveness of the entire skin regime. With various plant extracts and soothing ingredients blended together, Klairs toner is calming, non-irritating, hydrating for all skin even for the most sensitive.
Moisturiser - Purito Centella Unscented Recovery Cream
This moisturiser is an unscented, essential oil-free version of the CICA cream. The Centella Asiatica Extract (50%) soothes and relieves the irritated skin keeping skin radiant and healthy. It contains Asiaticoside, Asiatic Acid, Madecassic Acid, and Ceramide, which help strengthen the skin barrier preventing the evaporation of moisture inside the skin. This cream is gently absorbed deep into the skin to control its oil-water balance for a longer time.
Sunscreen - Purito Daily Go-To Sunscreen
PURITO Daily Go-To Sunscreen is made with chemical and physical filters, successfully blocks UV radiation while keeping skin soft, smooth, and moisturised. It has a lightweight, very blendable texture that creates a dewy finish without leaving a white cast, making it ideal for use on skin alone or with makeup.
Long story short, skincare is for everyone, regardless of gender, age or even skin type. As it has been said, doing skincare is part of proper skin hygiene and it is the best away to keep your skin healthy. You make significant strides in ensuring the health of your entire body when you maintain a clean and healthy skin.